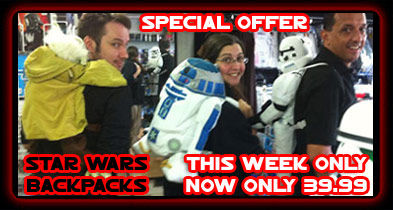 SPECIAL OFFER - Darth Vader Back Buddy - Rucksack
Officially licensed Star Wars Darth Vader Plush Bag Backpack Buddy.
Carry this caped villain everywhere with this awesome zipper back pack.
Includes adjustable straps and a waist strap to hold him securely in place.
Zippered pocket is large enough to hold your wallet, a book, a drink, your mobile, MP3 player and more.
Measures about 28 inches long overall.
Take advantage of:
Same day despatch.
No worries, International shipping service.
Excellent packaging with fragile stickers.
Customer account with tracking service.
100% stock availability.
Free Gift with every order.
Guaranteed.