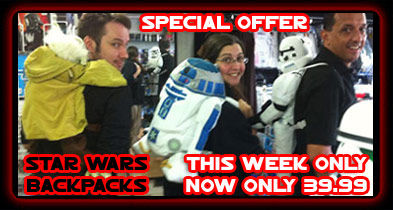 Wicket the Ewok Back Buddy - Rucksack
Now you can have one of the hunter-gatherer creatures from the forest moon of Endor conveniently on your back.
This hooded buck toothed Ewok has a zipper so you can put all your valuables inside.
There are also brown attached straps so you can wear your friendly Ewok around all day.
This makes a great gift for any Star Wars fan.
Take advantage of:
Same day despatch.
No worries, International shipping service.
Excellent packaging with fragile stickers.
Customer account with tracking service.
100% stock availability.
Free Gift with every order.
Guaranteed.