Star Wars Bathrobes from Jedi-Robe.com 04/05/2012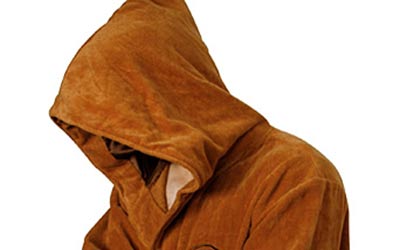 Now you can feel the power of the Force from the safety and comfort of your own home with these fantastic Jedi and Sith Bathrobes.
Here at www.Jedi-Robe.com - The Star Wars Shop we are proud to announce that we are now selling these great quality bathrobes. The bathrobes are available in the traditional brown, making them the must-have items for all the Jedi Masters out there. But if the Dark Side is more your thing, the black Sith robe is ideal.
These luxurious dressing gowns are made of 100% cotton-velour, meaning they are soft, warm and perfect for keeping you comfortable. The large hood and wide sleeves means they are instantly recognisable as classic Jedi and Sith cloaks.
These robes are the perfect gift for everyone, from the aspiring Jedi to the casual movie-goer. But be warned, if you buy one for a friend or family member, you might find it hard to part with.
If you would like to purchase one of our Black or Brown Star Wars Jedi Bath Robes - PLEASE CLICK HERE