Star Wars Olympics 17/05/2012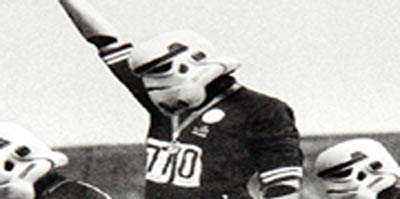 The London 2012 Olympics are one of the most eagerly anticipated sporting events of the year.
This is no surprise when you consider how many athletes are set to compete in the different sporting events. London 2012 looks forward to welcoming supporters from around the world who have bought their tickets and will be flocking to the capital to cheer on their team.
If you are one of the many lucky Star Wars fans who managed to get a ticket to the games, why not take some time to come and visit us here at Jedi-Robe.com - The Star Wars Shop?
Whether you are a serious Star Wars addict or someone who just likes to watch the movies with your kids, you will be able to find the perfect souvenir from our wide selection of action figures, vehicles, blasters, lightsabers and replica costumes. When you consider how unreliable British weather is, a Jedi Robe might just be the thing you need to keep dry and just think how inspired the athletes would be if they were cheered on by Stormtroopers, Jedi Knights and Sith Lords.
We are situated a short walk away from Northolt tube station and we are very near several bus routes, meaning easy access from Central London as well as Heathrow Airport.
CLICK HERE TO GET DIRECTIONS TO OUR LONDON STORE
The best news is, if you bring your Olympic ticket along with you and present it at the shop, you will receive a 5% discount on your purchase.
The Olympics games might not be as exciting as podracing, but they are still one of the most thrilling and popular sporting events in this part of the Galaxy and everyone here at Jedi-Robe.com - The Star Wars Shop is proud to support them.